Maccheroncini con Frittedda Macaroni with a Sauce of Asparagus, Onion, Peas and Broad Beans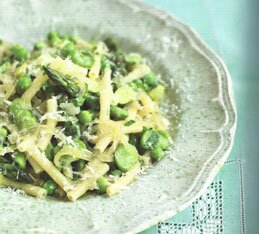 Serves 4
350g dried maccheroncini pasta
50g Parmesan, freshly grated
Salt and pepper, to taste
SAUCE
60ml extra virgin olive oil
2 onions, peeled and finely sliced
150g podded and peeled young broad beans, peeled weight
150g sweet young garden peas, podded weight
300g asparagus tips
2 tbsp finely chopped fresh flat-leaf parsley
ALTERNATIVES
This sauce is also good with egg tagliatelle or trenette.
Frittedda is a specialty of Palermo, the capital of Sicily, where in springtime this young vegetable stew is eaten with panelle, chickpea flour fritters. I like it also as a sauce for pasta, and quite often add small, finely sliced artichoke hearts. This recipe is dedicated to Sicily, the first region in Italy to 'import' pasta- probably maccaruni- from the Arabs.
Heat most of the oil in a large saucepan, add the onions and fry gently until soft, about 6-8 minutes. Add the raw broad beans, peas and lastly the asparagus tips. Add 100ml water and braise until the vegetables are tender, about 10 minutes. Add salt and pepper to taste.
Cook the pasta in plenty of boiling salted water for 6-7 minutes or until al dente. Drain well and mix with the sauce. Add the parsley and divide between four warmed plates. Sprinkle over the Parmesan and lastly pour on a stream of the remaining extra virgin olive oil. Serve hot.
This recipe is from
Antonio Carluccio's Pasta