Orata all'Acqua Pazza Poached Sea Bream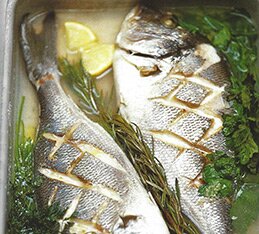 Serves 4
2x 600g sea bream, cleaned
1 bunch flat-leaf parsley
1 bunch chervil
16 lemon slices
500ml water
200ml olive oil
50g salt
A few black peppercorns
In a few restaurants offering southern Italian food, you may find this curious recipe. I have called it alla aqua pazza, which translates literally as cooking in 'mad weather', though it is often found as all'acqua di mare, as it is usually cooked in seas water. As sea water may be difficult to come by here, I have simply added salt to ordinary water to re-create the effect.
Put the fish in a shallow pan large enough to take both with not much space around them. Divide the herbs and lemon slices between the fish, pushing them into the cavities. Pour in the water and oil, which should cover the fish. Add the salt and peppercorns.
Put the pan on the stove and bring to the boil quickly. Reduce the heat and simmer slowly for 15-18 minutes. Serve with boiled Savoy cabbage.
This recipe is from
Antonio Carluccio's Simple Cooking