Pannacotta con Sciroppo di Lima Baked cream with lime syrup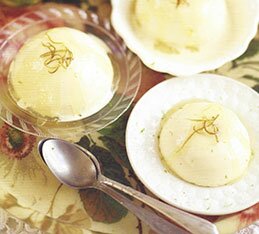 Serves 6
2 gelatine leaves
600ml double cream
60g caster sugar
1 vanilla pod
2tbsp dark rum
SYRUP
2 limes
100g caster sugar
This dish without doubt has conquered the gastronomic world. One of the main reasons for its popularity is its simplicity, and another is the sheer pleasure of eating it. The recipe's exact origins are not known, but according to the people of the Aosta Valley, it is an echo of the French crème caramel from Savoy – although here it is made with gelatine instead of eggs. The idea of pannacotta as a savoury has been adopted in Piedmont, where it is served with truffle and is called crema cotta (cooked cream).
Soak the gelatine leaves in water to cover until soft.
To prepare the limes for the syrup, cut off the zest with a vegetable peeler, avoiding the pith. Squeeze the juice from the limes, and then cut the zest into very fine julienne strips. Keep to one side.
In a saucepan, bring the double cream briefly to the boil with sugar, the vanilla pod and rum for just a few seconds. Remove from the heat, then let cool a little. Remove the vanilla pod (this can be dried and used again).
Drain the gelatine, squeezing out excess water, and add to the hot cream. Stir so that the gelatine dissolves completely. Pour the cream into six simple containers, leave to cool, then chill.
To make the syrup, put the sugar, lime juice and julienne zest strips into a small pan, and heat gently. When the sugar is clear the syrup is ready. Leave to cool completely.
Turn the pannacotta out of their containers onto individual serving plates. Pour 1 tablespoon of syrup over the top of each and serve.
This recipe is from
Two Greedy Italians Eat Italy