Pesce Spada Muddica Grilled Breaded Swordfish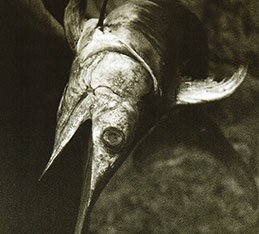 Serves 4
4 swordfish (or tuna) steaks, weighing 150g each
150g fresh white breadcrumbs, finely processed
2 tbsp extra virgin olive oil
1 garlic clove, peeled and puréed
1 tbsp very finely chopped parsley
salt and pepper
Muddica is a sort of magic ingredient for Sicilians. Basically, it is fresh, flavoured breadcrumbs, which are used in a variety of ways – to stuff sardines, to coat a slice of fish to be grilled, as here, or even as a cheap delicious alternative to sprinkling Parmesan on pasta.
Preheat the grill to medium hot, and have the fish at room temperature.
Place the breadcrumbs, olive oil, garlic and parsley in a bowl and season to taste with salt and pepper. Mix the ingredients with your fingers to obtain almost moist but loose breadcrumbs. Coat the fish steaks on both sides.
Put the coated steaks under or on the preheated grill and cook for 5 minutes on each side.
Eat with a rocket and chicory salad.
To make it more special
Cheese is not usual with fish, but you can add a little freshly grated Parmesan to the breadcrumbs for the coating, about 50g. It changes the flavour very subtly, and is good with tuna or swordfish.
This recipe is from
Antonio Carluccio's Simple Cooking