Pheasant Breast with Cauliflower Fungus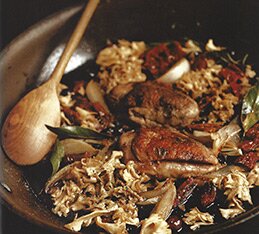 Serves 4
500g cauliflower fungus
4 large pheasant breasts
A little plain flour
8 tbsp olive oil
40g butter
1 onion, chopped lengthways into 6
4 bay leaves
1 sprig rosemary
10 juniper berries
500g blueberries
100ml dried white wine
6 sun-dried tomatoes, cubed
Freshly grated nutmeg
Salt and pepper to taste
I dedicate this recipe to His Royal Highness the Prince of Wales, because he once told me about his pleasure at having found this mushroom all by himself in the Balmoral woods. He was very impressed by the magnitude of the fungus, which, when weighed, was a couple of kilos. I don't know how the chef of the royal household prepared it, but the must have done a good job for the Prince to mention it and to like it so much. I once saw a similar mushroom, dried, in a Chinese shop. You may be tempted by necessity to use it instead of the cauliflower fungus.
Cut the fungus into chunks the size of an apricot.
Dust the pheasant breasts with flour. Heat the oil and butter in a pan, then brown the pheasant breasts on each side in the mixture for 2-3 minutes, depending on thickness. Add the onion, bay leaves, rosemary, juniper berries and blueberries. Stir-fry for 5 minutes, then add the wine and tomatoes, and cook to evaporate the alcohol. Mix well, then add the fungus chunks, which will take a further 7-10 minutes to cook. Add salt and pepper and a dash of nutmeg to taste.
Serve with a very buttery potato purée or with roast potatoes.
This recipe is from
The Complete Mushroom Book: The Quiet Hunt