Pinzimonio Raw Vegetable Crudités with Oil and Vinegar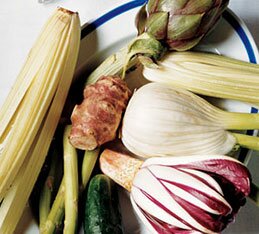 Serves 1 (quantity per person)
2 spring onions, carefully cleaned
2 tender celery stalks
2 thin slices fennel bulb
2 tender asparagus spears
1 young carrot, cut into batons
and anything else you might find interesting
Dip
about 2 tbsp olive oil
a good pinch each of salt and pepper
2 tbsp balsamic vinegar
Sometimes, if you happen to sit in a Tuscan, Piedmontese or Roman trattoria, without asking for it you are served a bowl of crudités (called cazzimperio in Rome). These are whole or cut raw vegetables, usually the freshest of the season, often – a bit posh this – served on ice, along with a little bowl of virgin olive oil, salt, pepper and balsamic vinegar in which to dip.
To make the dip, place the oil, vinegar and garlic clove, if desired, into a bowl, adding a good pinch each of slat and pepper.
Arrange the vegetable pieces on a plate along with the dip. To serve, dip the vegetables into the oil and vinegar, being careful to stir the bottom and mix the ingredients together.
Serve with some good bread. So simple, but so delicious.
This recipe is from
Antonio Carluccio's Simple Cooking