Polpettine di Spinaci Spinach Balls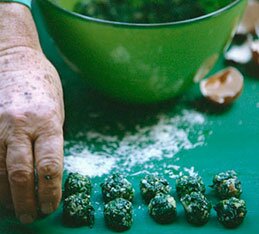 Serves (makes 24 little balls)
500g spinach, cleaned and tough stalks removed
salt and pepper
2 eggs, beaten
a pinch of freshly grated nutmeg
1 tsp very finely puréed garlic
100g fresh white breadcrumbs
50g Parmesan, freshly grated
olive oil, for shallow-frying
Some 25 years ago I invented this recipe for these little spinach balls for a chapter on finger food in a book published by the Sunday Times. Since then I have used them in all sorts of ways, most significantly in a vegetarian pasta dish, (see page 72 Simple Cooking) and layered with pasta in a vegetarian lasagna (see page 76 Simple Cooking). They are very simple to make and very jolly.
Wash the spinach, put it in a pan of salted water and blanch for 2 minutes or so, then drain. Squeeze out as much water as you can, using your hands, or pressing in a sieve, then chop the leaves finely.
Put the spinach in a medium bowl and stir in the beaten eggs, a pinch of salt, some pepper, the nutmeg, garlic, breadcrumbs and Parmesan. Mix well until you achieve a binding consistency. If the mix is too wet, add an extra tablespoon of breadcrumbs.
Pour enough olive oil into your frying pan to cover the base generously, and heat gently.
Roll the mixture into little balls the size of walnuts. Shallow-fry the spinach balls in olive oil until golden on each side, about 4-5 minutes per side. Drain on kitchen paper and serve either warm or cold.
This recipe is from
Antonio Carluccio's Simple Cooking