Pomodori Ripieni Stuffed Tomatoes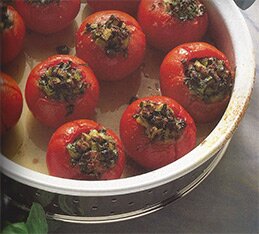 Serves 4
4 x 200g (7 oz) large ripe beef tomatoes
75 g (3 oz) fresh white breakcrumbs
2 tablespoons chopped fresh basil
2 tablespoons chopped fresh mint
1/2 garlic clove, crushed Sea salt
2 tablespoons extra virgin olive oil
One of the thousand ways of using tomatoes is as a container, enclosing some spicy ingredients. When cooked in the oven, the moisture in the tomato flesh concentrates the flavour of the stuffing. You end up with a dish which is sweet, provided you use ripe tomatoes, yet savoury.
Preheat the oven to 240°C/475°F/ Gas 9.
Cut the top off each tomato to form a lid and scoop out the seeds. Chop the central pulp and mix with the breadcrumbs, basil, mint, garlic and salt to taste. Refill the tomatoes and transfer to an ovenproof dish that will just hold them. Sprinkle with olive oil. Return the lids and bake in the oven for 30 minutes.