Red Mullet with Chanterelles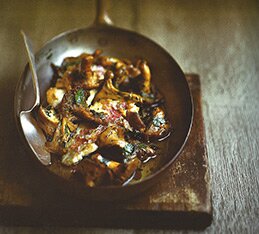 Serves 4
250g chanterelles
4 red mullet fillets (about 400g in weight)
6 tbsp olive oil
Juice of 1 lime
1 shallot, very finely chopped
1 tbsp brandy
4 tbsp double cream
1 tbsp finely chopped parsley
Salt and pepper to taste
For me, there is no more delicious than freshly caught red mullet fried in olive oil until crisp. For you, however, the easier option might be to find a fishmonger who has already filleted some fish for you. Here I have combined the red mullet with lovely little chanterelles.
Clean and trim the mushrooms. Marinate the fish in 2 tablespoons of the oil with the lime juice and some salt and pepper for 2 hours.
In a pan, heat the rest of the oil and fry the shallot gently to soften. Add the mushrooms and fry gently for 5 minutes. Add the brandy and, when the alcohol has evaporated, the cream, salt, pepper and parsley.
In a non-stick pan, fry the fish fillets skin side down until the skin is crisp and the flesh is cooked. This should take about 5-8 minutes. Add any remaining marinade to the pan, and heat gently.
Serve the fish immediately on hot plates with the mushrooms at the side. Eat with bread.
This recipe is from
The Complete Mushroom Book: The Quiet Hunt