Risotto Primavera Spring Vegetable Risotto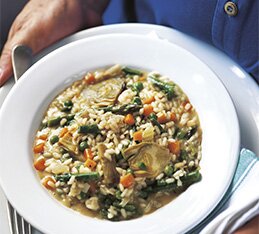 Serves 4
1 onion, finely chopped
4 carrots, finely diced
2 celery stalks, trimmed and finely diced
50g fresh peas, podded
100g green (Frenchy) beans, trimmed and cut into pieces
2 artichoke hearts, finely diced
12 asparagus tips
50g hop shoots (optional)
2 litres boiling chicken or vegetable stock
100g butter
400g risotto rice
Salt and pepper
60g Parmesan, grated
I had always assumed that Lombardy was the birthplace of risotto, but it is Veneto. There are hundreds of risottos in Venice. This one is made with spring vegetables, as its name suggests which gives it the flavour of new life.
Have all the vegetables ready. Bring the stock to the boil in a pan and keep it at a low simmer.
Melt 50g of the butter in a large pan and fry the onion until soft. Add the carrots and celery and cook for 5 minutes, then add the peas, green beans and artichokes. Stir over the heat briefly, then add the rice and stir to coat with the butter.
Ladle by ladle; add the boiling stock, allowing each addition to be absorbed before you add the next. After 10 minutes, add the asparagus and the hop shoots if using. Carry on adding stock and stirring, until the rice is al dente, about 20 minutes. When the rice is cooked, everything else will be.
Remove from the heat and season with salt and pepper to taste. Add the rest of the butter and the Parmesan. Stir briskly and serve warm.
This recipe is from
The Collection