Soffritto di Maiale Pork Offal Stew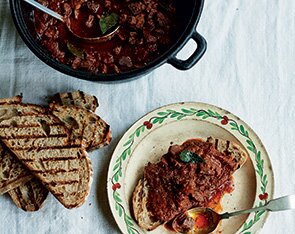 Serves 4
1kg (2lb 4oz) pork liver
3 pigs kidneys
400g (14oz) pork lung or, alternatively, veal sweetbreads
200g (7oz) lard , or 200 ml (7fl oz/just over ¾ cup) olive oil
1 onion, peeled and finely chopped
2 garlic cloves, peeled and crushed
2 hot chillies, diced
300g (10½ oz) jar of tomato puree
8 fresh bay leaves
Salt and freshly ground black pepper
Winter in our family, was never less exciting than the rest of the year as far as food was concerned. My mother always had something up her sleeve to make the family happy. Just before December the slaughter of the pigs was an annual happening in the local farm, and we were always given a tray of offal, which could be used immediately fresh, or turned into different specialities after freezing.
Heat the lard in a large saucepan and fry the onion, garlic and chillies for 5 – 10 minutes. Add all the pieces of offal, and let them brown on each side for about 5 minutes of so. (You may need to do this in batches.) Add the tomato puree, bay leaves and 400ml (14fl/ox / 1 ¾ cups) of water, then cover with the lid. Cook at a gentle simmer for 2 hours, adding some more water if necessary, and stirring every now and again.
When the mixture is tender, taste for seasoning. Either serve straight away – on toasted thick slices of country bread – or let it cool down and divide between small containers to freeze. When needed you can defrost only the amount requires, put into a pan with a little stock, and serve as above on country bread.
This recipe is from
Vegetables by Antonio Carluccio