Sorbetto di Campari e Frutto della Passione Campari and Passion Fruit Sorbet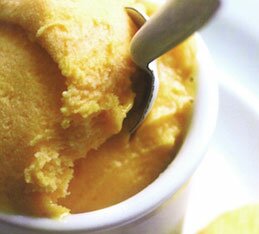 Serves 10
1kg (2 ¼ lb) passion fruit
100ml (3 ½ fl oz) Campari
1 litre (1 ¾ pints) water
500g (1 lb 2 oz) caster sugar
250g (9 oz) glucose)
Mint leaves (optional), for decoration
Campari is probably the best-known Italian aperitif the world over. With its intense red colour and its sophisticated bitter taste, produced by the infusion of various herbs, it can be used in cocktails as well as drunk by itself. Combined with the intense flavour of passion fruit, the result is deeply exotic. (I admit passion fruit don't grow in Italy, but I've made this one exception!) I created this sorbet many years ago, and it has become a much appreciated, refreshing finale to a meal.
Halve the passion fruit, and scrape the flesh and seeds out into a sieve over a bowl. Push the flesh through so that as much juice as possible is obtained, while the black seeds are left behind.
Mix everything except the mint together, and put it into a sorbet machine. Churn until a smooth consistency and it is frozen, then place in the freezer.
Before serving, remove from the freezer and leave to soften for 10 minutes. Coop into balls and serve in frosted glasses or other dishes, topped with mint leaves if you like. A biscuit would be a good accompaniment.
This recipe is from
An Invitation to Italian Cooking