Spaghetti di Farro con Luganega Spelt Spaghetti with Sausage Sauce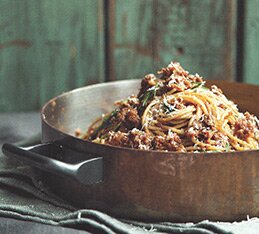 Serves 4
350g dried spelt spagghetti pasta
Salt and pepper, to taste
60g pecorino cheese, freshly grated
SAUCE
30g dried porcini, rehydrated
3 tbsp olive oil
50g unsalted butter
1 small onion, peeled and finely chopped
1/2 fresh hot red chilli, finely chopped
250g sausage (luganega). meat removed from the skin and crumbled
100ml white wine
2 tbsp tomato paste, diluted in 2 tbsp water
1 tbsp fresh rosemary needles
ALTERNATIVES
Obviously the sauce would go with any spaghetti or other long pasta, or indeed with penne. If you leave the sausage in large chunks, the sauce would be good served with polenta. Luganega sausages are available from good butchers and delicatessens.
Most commonly, an ancient wheat type called 'spelt' is called farro in Italy. In fact, a closely related rare wheat, in English 'emmer', is correctly the botanical equivalent of farro. (Like the history of pasta, the untangling of grain types is a minefield.) Spelt was used long before our modern day wheat because it was easy to grow in almost every region of Italy. But it is in Tuscany and Umbria that it is still used today, in modest quantities, in the making of both bread and pasta (and risotto-type dishes). The flavour of both pasta and bread is different, with a wholemeal characteristic, which makes it less delicate and nuttier than ordinary wheat pasta. Combining spelt pasta with luganega, a tasty sausage originating from Greece, seems to be ideal.
Soak the dried porcini for the sauce in hot water for 20 minutes, then drain, reserving the soaking water, and chop.
Heat the olive oil in a large saucepan with the butter, and fry the onion and chilli briefly. Add the crumbled sausage and porcini, and fry and stir for 8-10 minutes. Add wine and then cook for a further 2 minutes until the alcohol has evaporated. Add the tomato and rosemary and cook for another 10 minutes on a low heat. Season with salt and pepper to taste, and if more moisture is needed, add some of the porcini soaking water.
Meanwhile, cook the pasta in plenty of boiling salted water for about 10-15 minutes or until al dente (follow the packet instructions). Drain well. Mix with the sauce and divide between deep warmed plates. Sprinkle with the cheese and eat straightaway.
This recipe is from
Antonio Carluccio's Pasta