Torta Di Ortiche Nettle Tart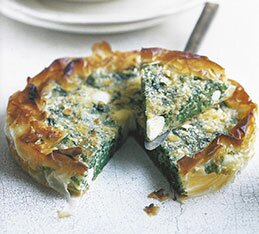 Serves 4
350g nettle leaves
Salt and pepper
12 quails eggs
20g lard, melted
10 sheets of filo pastry
4 eggs, beaten
150g Parmesan or Cheddar cheese, grated
½ tsp freshly grated nutmeg
15g dried breadcrumbs
15g unsalted butter
Be careful to wear gloves when collecting nettles and be sure to put them in a plastic bag in the fridge before preparation, it reduces the sting!
Preheat the oven to 200°C/Gas
Cook the cleaned nettle leaves in salted water for 5-8 minutes, depending on their toughness. Strain and squeeze out the excess water. Leave to cool and then chop roughly. Cook the quails eggs for approximately 7-8 minutes, then cool and remove their shells.
Brush a round baking tin of 25cm in diameter and 5cm high with a little lard, then place a sheet of filo pastry on the base. Brush with lard, and then continue to layer the sheets one by one, overlapping slightly, until the whole inside of the tin is covered.
Mix the chopped nettle leaves in a bowl with the eggs, Parmesan or Cheddar, nutmeg and salt and pepper to taste. Place the quails eggs on the filo pastry, then cover with the nettle mixture to fill the tin. Trim any excess filo pastry from around the edge of the tin, leaving 2.5cm overlapping. Fold the pastry over the filling, taking care to leave the middle uncovered. Sprinkle the tart with breadcrumbs and small dabs of butter. Bake for 15 minutes in the preheated oven until golden brown. Serve hot in wedges.
This recipe is from
The Collection