Zuppa di Cavolo Valdostana Cabbage Soup Aosta Valley Style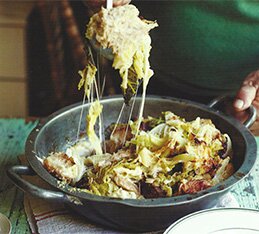 Serves 4
800g (1lb 12oz) Savoy cabbage, cleaned and chopped
1.5 litres (2¾ pints/6 cups) chicken or vegetable stock
2 large thick slices of wholegrain break
4 tablespoons extra virgin olive oil
40g (1½ Alpine butter
300g (10½ oz) Fontina cheese, shredded or sliced
60g (2¼oz) Parmesan, freshly grated
salt and freshly ground black pepper
TO FINISH
2 garlic cloves, peeled and sliced
60g (2¼ oz) unsalted butter
If you are in the Aosta Valley in the winter and visit a local restaurant or osteria, you may find this heart-warming and delicious soup or pasticcio on the menu. It is based on cabbage, and two wonderful products of the Aosta Valley, Fontina cheese and Alpine butter.
Put the cabbage into a pan with a little salt and the stock, and boil until soft and tender, about 15-20 minutes. Remove the cabbage from the liquid, and put to one side to cool. Reserve the liquid.
Preheat the oven to 200°C (400°F/gas 6).
Cut the bread into big cubes. Heat the olive oil and the butter together in a frying pan, and fry the break cubes for a few minutes, until golden. Drain on absorbent kitchen paper.
In a large ovenproof dish, build layers of cabbage, break cubes and Fontina cheese. Add some of the reserved cabbage cooking stock, which will penetrate to the bottom layer and soften the bread. Sprinkle this with some of the Parmesan, then layer again until the ingredients have all been used up. Finish with the remainder of the stock.
When ready to bake, fry the garlic in a small frying pan in the butter until foaming, then pour on top of the cabbage.
Bake in the preheated oven for 25-30 minutes. Before serving, mix the cabbage around with a spoon and serve, sprinkled with pepper.
This recipe is from
Vegetables by Antonio Carluccio