Zuppa Estiva Di Cetriolo E Pomodoro Summer Cucumber and Tomato Soup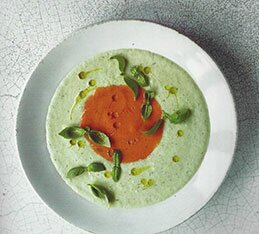 Serves 4
2 large cucumbers, peeled and cut into chunks
2 tablespoons finely chopped dill
3 tablespoons double cream (heavy cream)
2 large beef tomatoes, skinned and chopped
10 fresh basil leaves, plus extra for garnish
1 small white onion, peeled and roughly chopped
2 tablespoons extra virgin olive oil
Salt and freshly ground black pepper
I owned and ran the Neal Street Restaurant for twenty-six years, and every summer I always featured a cold and refreshing soup such as this one. It is one of my classic recipes – so sorry if you have seen it before!
Put the cucumber, dill and some salt and pepper into a liquidizer and whiz until liquid and smooth. Mix in the cream. Chill in the refrigerator.
Whiz the skinned tomatoes in the liquidizer with the basil, onion, olive oil and some salt and pepper to obtain a smooth mixture. Chill in the refrigerator.
To serve, pour a little of the cucumber soup into a deep soup plate and carefully pour the tomato soup into the centre. Drizzle some extra virgin olive oil over the top, and then decorate with a few basil leaves.
This recipe is from
Vegetables by Antonio Carluccio