Granita Di Pantelleria Raspberry and Blackberry Granita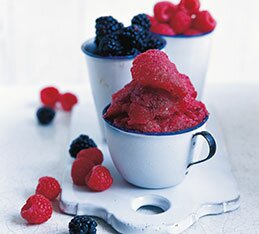 Serves (Makes about 3kg)
1.5kg very ripe mixed raspberries and blackberries
Juice of 2 lemons
Finely grated zest of 1 lemon
1.5kg caster sugar
I once had a granita like this (though made of mulberries) on a holiday in Pantelleria, a small island in the middle of the Mediterranean. Ripe Strawberries can be used in the same way, as indeed can any other soft fruit.
Put the berries in a stainless-steel pot over a medium heat and let them burst and release their juices, stirring from time to time. Add the lemon juice and zest, followed by the sugar, and cook for 15 minutes, still stirring. When the sugar has melted, leave the mixture to cool. The berries will have almost dissolved, so there should be no need to strain, but if you are sensitive to texture, you can do so.
To make the granita, take the berry mixture and dilute with half its volume of water. Mix well and then place in a suitable container in the freezer. When the mixture starts to set, remove from the freezer and stir well to break up the ice crystals. Repeat this process a couple of times, or until the crystals have been completely dispersed and the granita is evenly grainy. Spoon into glasses and serve immediately.