Torta di Ricotta Ricotta Tart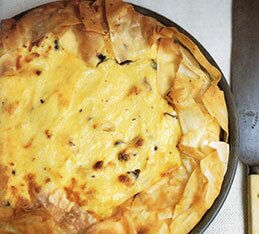 Serves 6-8
a few sheets of filo pastry (frozen)
50g butter
Filling
500g fresh ricotta cheese
120g caster sugar
5 eggs, separated
150g mix each of orange and lemon rind,
cut into small cubes
finely grated rind of 1 lemon
50g bitter chocolate, broken into small pieces
Italians like ricotta very much and it is widely used to produce both savoury and sweet dishes. It is a by-product of cheese making: the whey is re-boiled, until fluffs of the remaining protein come to the surface, and are collected. The most important thing about ricotta is that it has always to be very fresh: if there is even the tiniest hint of sourness, the ricotta is off.
Preheat the oven to 180ºC/Gas 4. Grease the inside of a 25cm flan tin with a little of the butter. Melt the remainder of the butter.
Using 2 sheets of the filo, line the tin, brushing each sheet with some of the melted butter.
Put the ricotta in a bowl, and loosen the texture with a fork. Mix in 100g of the sugar and the egg yolks, followed by the cubes of rind, the grated rind and the chocolate. Mix well together.
In another bowl, beat the egg whites until stiff, then add the remaining sugar. Fold this carefully into the ricotta mixture using a large metal spoon, taking care not to lose the airiness of the whipped whites.
Spread this filling on to the filo pastry on the base of the tin. Brush melted butter over the remaining sheet or sheets of filo. With scissors cut ribbons of buttered filo pastry and spread these decoratively on the tart.
Bake in the preheated oven for 30 minutes, then remove. Leave to cool before serving.
This recipe is from
Antonio Carluccio's Simple Cooking