Uova Tonnate Tuna-stuffed Eggs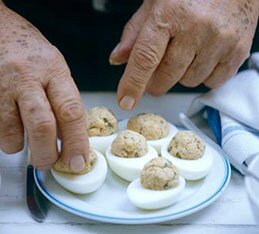 Serves 4/6
6 large eggs
150g canned tuna in oil, drained and finely chopped
12 salted capers, soaked (see page 00), drained and
finely chopped
Mayonnaise (makes more than you need here)
2 egg yolks
salt and pepper
1 tsp French mustard
100ml olive oil (not extra virgin)
juice of ½ lemon
This is another of my favourite antipasti for any occasion. I can't count the number of times I have surprised guests with this dish, which may be simple but holds plenty of flavour.
If you are in a hurry you can buy a good mayonnaise, but it is much better to make it yourself. You can do it!
Put the large eggs in a small pan of cold water, bring to the boil, and hard-boil them for 15 minutes. Drain and allow to cool.
To make the mayonnaise, beat the egg yolks with a pinch of salt and the mustard in a bowl until creamy. Stirring continuously, add a little stream of the olive oil. Beat until amalgamated, then continue adding the oil a little at a time, until the mixture has thickened and all the oil has been used. Whisk all the time. Now add the lemon juice and mix well. Taste for seasoning, and cover until needed.
Peel the eggs under water (it is easier), then cut in half. Remove the yolks and reduce them to a pulp with a fork in a bowl. Mix this with the tuna, capers and enough mayonnaise to be able to form balls the size of the original yolks. Place these in the holes of the halved egg whites and cover with some more mayonnaise.
This recipe is from
Antonio Carluccio's Simple Cooking